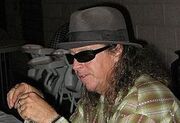 Terry Scott Taylor (born May 24, 1950) is an American songwriter best known for being the founding member of Daniel Amos and the composer of the songs in all The Neverhood games.
Songs made for The Neverhood games
Edit
Main articles: NeverhoOd Songs, Imaginarium
Albums released for The Neverhood
Edit
NeverhoOd Songs (1996)
Imaginarium (2000)
Random Acts and Hodgepodge (2001)
Ad blocker interference detected!
Wikia is a free-to-use site that makes money from advertising. We have a modified experience for viewers using ad blockers

Wikia is not accessible if you've made further modifications. Remove the custom ad blocker rule(s) and the page will load as expected.