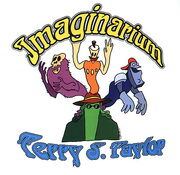 Imaginarium is an album by Terry Scott Taylor. It has songs from The Neverhood, Skullmonkeys, and Boombots. 
Track list
Edit
The Neverhood (main article: NeverhoOd Songs)
Skullmonkeys
Skullmonkeys Theme 
Incident at Skullmonkey Gate
She Reminded Me with Science
Monkey Shrines
Hard Boiler Eggs
Sno, Yell "Oh!"
Monkey Brand Hot Dogs
Elevated Structure of Terror
Death Garden Jive
Pineapple Mine Fields
Life Among the Weeds
The Secret Egg
Presidential Funky Monkey (also known as "Monk Rushmore")
Sour Head Hauksa Loukee
Beep Bop Bo Shards
The Plate ees Hot! (also known as "Castle De Los Muertos")
The Incredible Divy Run
The Worm Graveyard
The Evil of Engine Number Nine
Eeeeeeeeeeeeee!!!
Sub Standard Pirate
Psychedelic Boogie Child
The Lil' Bonus Room
Musical Fruit
Musical Fruit (Edited version)
Klogg is Dead!
Boombots
Funkybots (also known as "The Boombots Theme")
Boombots Bonus Song
Boombombs Away!
Sister Soulboom
The Last Thing We Never Said
Extra Notes
Edit
"(Note to the listener: Should you choose to sing along to any of the following songs, we wish you luck. You'll need it!)"
"(Continue singing with various grunts, groans and assorted nonsense...)"
Re-release
Edit
Imaginarium was re-released in 2004 by Stunt Records under the name "Imaginarium: Songs from The Neverhood". It had 8 bonus songs: 
Olley Oxen Free (Early Demo)
Rock n' Roll Dixie (Early Demo)
Jose Feliciano (Early Demo)
Klaymen's Theme (Early Demo)
My Stupid Lullaby
Untitled Lost Demo 1
Untitled Lost Demo 2
Eee-I-Ohh (Early Demo)
Ad blocker interference detected!
Wikia is a free-to-use site that makes money from advertising. We have a modified experience for viewers using ad blockers

Wikia is not accessible if you've made further modifications. Remove the custom ad blocker rule(s) and the page will load as expected.