Frenchie is a tick that lives in a hole in the ceiling of the AquaAttic. Willie calls this tick Frenchie and says in a letter to Klaymen that Frenchie is his pet.
Appearance
Edit
Frenchie has blue bulgy eyes that stick out the sides of his head. He has three lips and a very long tongue that spreads green drool everywhere. When Frenchie is agitated or scared he will spurt orange drool. He has a spiked shell and lots of hair on his backside. Frenchie has very thin legs with a bean-like hump near his feet.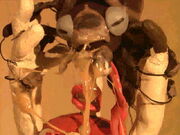 Ad blocker interference detected!
Wikia is a free-to-use site that makes money from advertising. We have a modified experience for viewers using ad blockers

Wikia is not accessible if you've made further modifications. Remove the custom ad blocker rule(s) and the page will load as expected.